Wik & Kugu Arts Centre
Servicing the five Clans living in Aurukun: Apelech, Winchanam, Puch, Wanam and Sara.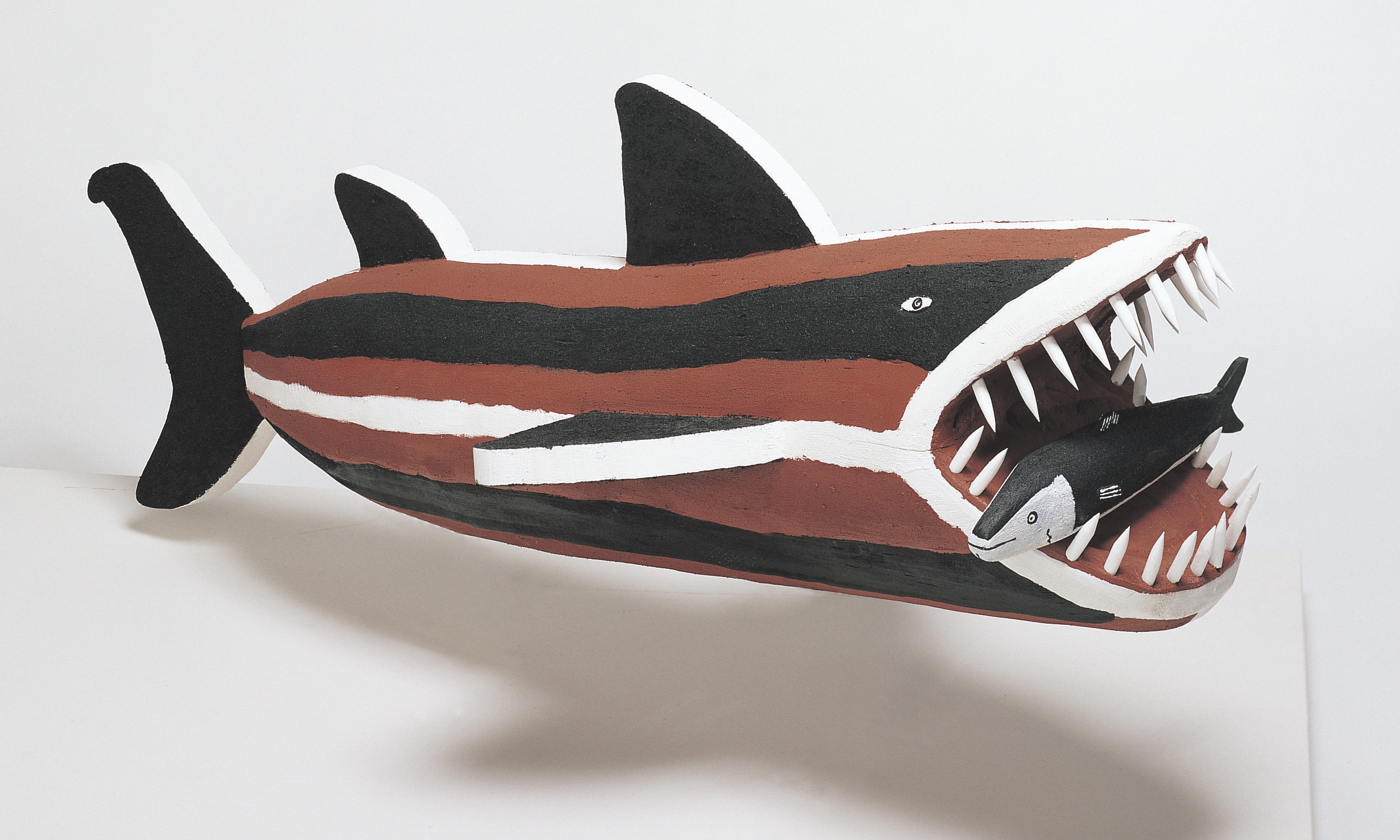 KOOMEETA, Craig, Wik-Alkan people Australia b.1977 Freshwater shark with mullet in mouth 2004, photo by QAGOMA
"The people of Aurukun belong to five culturally seperate Clan groups. Starting from 1904, Clans from the North and South of Aurukun began to walk in from their homelands to live at the Aurukun Mission Reserve. This continued even up until the 1970's"
CONTEMPORARY ART
Located in the remote community of Aurukun on the west coast of Queensland's Cape York Peninsula, Wik & Kugu Arts Centre is a community-owned and governed social enterprise hosted by the Aurukun Shire Council. The Centre services the five Clans who live in Aurukun and exists to celebrate and encourage contemporary cultural expression through the arts. The Centre's primary function is the commercial production of fine art that provides sustainable cultural and economic opportunities for over 30 established and emerging artists. Aurukun's visual art embodies Ancestral narratives that support and maintain spiritual and historical connections to Country. The cultural precinct of Wik & Kugu includes a men's workshop, a women's painting studio and a small gallery space.
Across the Wik & Kugu region, the practice of creating objects for ritual ceremonies dates back to the beginning of time. In recent years, art market developments have allowed these ceremonial practices to be given a new contemporary context. In the 1970s, and thanks to an initiative by the State Government, an art and craft market for remote Queensland Indigenous communities sprang to life. But it wasn't until the late 1990s that Aurukun started to produce its visual art commercially. Since then, the production of art in the community has flourished into an innovative cultural movement enabling Wik & Kugu people to reassert their ties to Country and solidify their place in the contemporary art world.
Aurukun's five Clan groups all have their own unique histories and understanding of the Land as well as interlinked connections with other Clans. There are no simple political linguistic groups in Aurukun. The people do own, by right of Clan birth and Country, a recognised variety of languages. With a population of 1200 people, Aurukun is home to one of only 12 strong Traditional Aboriginal Language's left in the country. Wik-Mungkan, the lingua franca of the community, is also considered the only "living and thriving" Traditional Aboriginal Language left in Queensland (AIATSIS 2020).
It was the introduction of a sawmill that supported a transition to steel tools. New carpentry techniques also aided the development of more complex and sophisticated sculptures. In recent years, art market developments have allowed Aurukun ceremonial practices to be given a new contemporary context. In the 1970s, the Queensland Government initiated an Art and Craft market for remote top-end communities however, it wasn't until the early 1990s that Aurukun would start to sell their art commercially. Up to this point, sculpture from Aurukun was not made for sale but was reserved exclusively for Ceremonial purposes, as it always had been.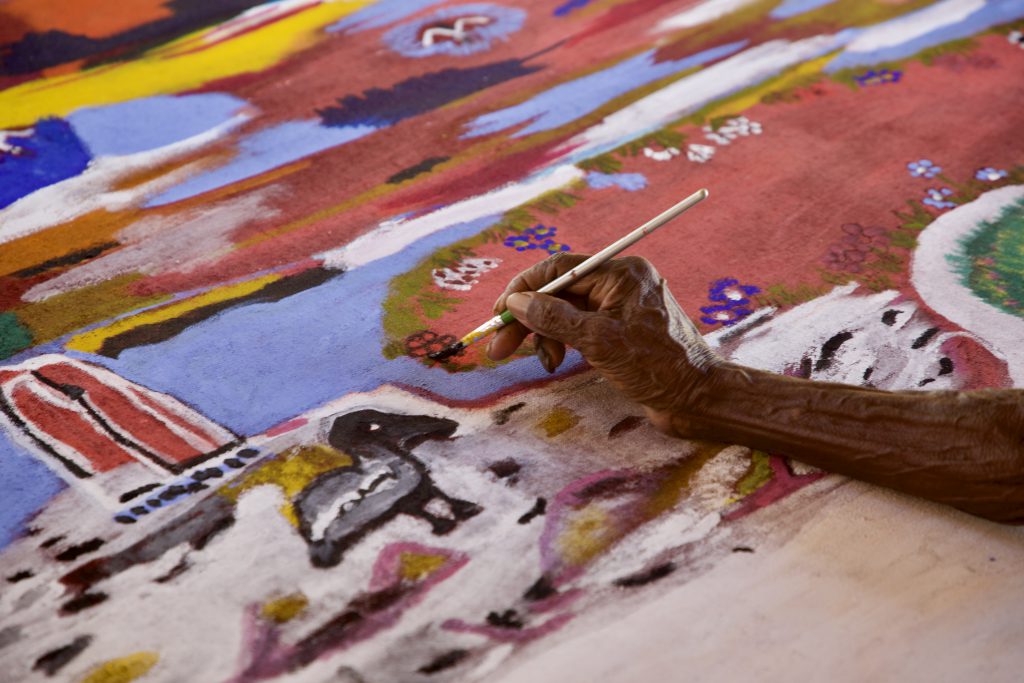 HISTORIC AURUKUN
Aurukun was formally established as a mission reserve in 1904 by the Presbyterian Church of Australia. During the early days, the Reserve acted as a stronghold for displaced Northern and Southern Clans escaping the murderous behaviour of marauding pastoralists and sea pearling companies.
From 1904 – 1960, the strength of Aurukun's artistic traditions were maintained during the period of the Presbyterian Mission under which initiations, that helped maintain selected elements of language and cultural practices belonging to the Wik and Kugu Region, were continued.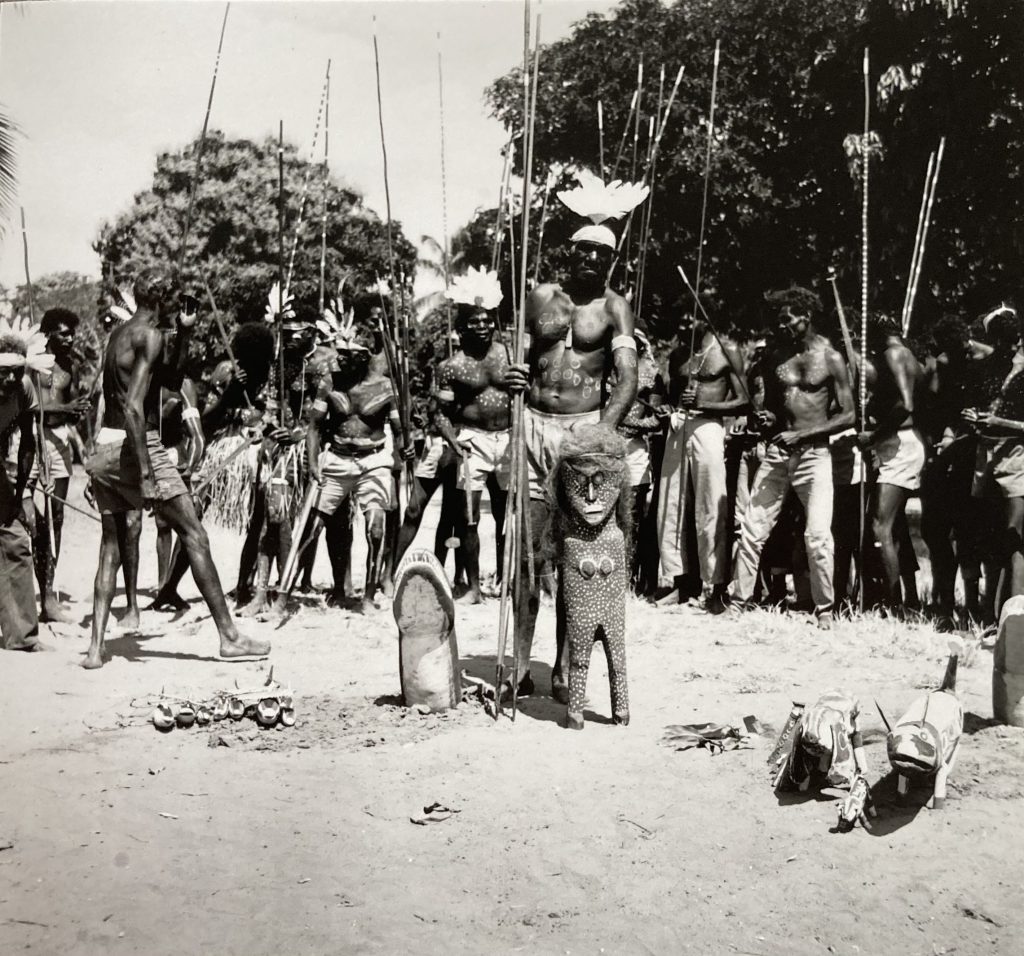 PROVENANCE & DEVELOPMENT:
AURUKUN ART 
Aurukun's iconic sculptural tradition is a result of unbroken ties to the Ancestral past. Each Clan has a rich Ceremonial heritage connected to sacred story places known in Language as "Awa". The earliest ethnographical documentation and collection of Wik sculpture was in the late 1800s. The most significant early collection was made by Ursula McConnel, a collection that now sits in the South Australian Museum.
In 1962, an important Ceremony was held in Aurukun at a place called Um Toch (the Dry Swamps). The Ceremony was  filmed by the late Ian Dunlop, one of Australia's most important ethnographical film makers who broke new ground in the art of participatory documentary film making.  It was this collaborative film project that put Wik & Kugu Culture on the global map and was a catalyst for the early development of today's contemporary art movement.
The Ceremony itself Malp' included an organised Male' (corroboree) and was performed by all the five Clans over two consecutive days.  Left over from the Malp' was a large collection of ritual sculpture that was gifted to the National Museum of Australia by William MacKenzie, Aurukun's governing Presbyterian Mission Superintendent (1930 – 1963). The 1962 Malp' is today considered a key cultural resource for the community of Aurukun and forms part of the rich Cultural archive that is slowly being repatriated to the community.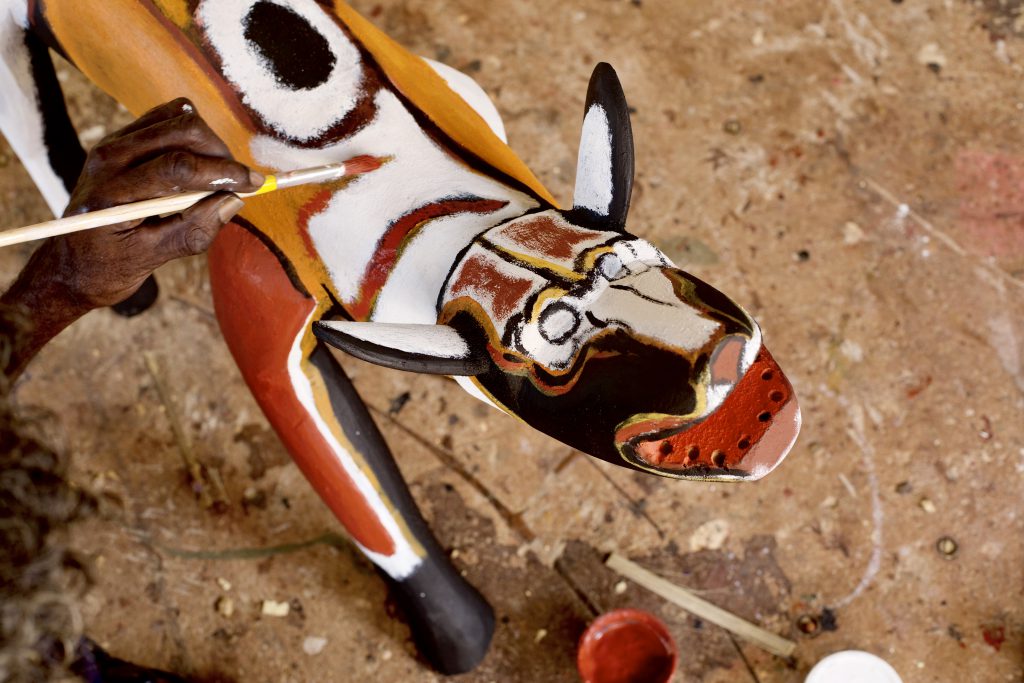 Partners
Wik & Kugu Arts Centre is supported by the Indigenous Visual Arts and Industry Support Program & Arts Queensland under the Backing Indigenous Arts Program.
STAFF
The Centre employs a full-time arts coordinator who facilitates the development of both men's and women's fine art practice in Aurukun. The centre employs a number of part-time Arts Workers, all of whom are vital to the continued operation of Wik & Kugu Arts. Our Arts Workers are highly valued for their cultural knowledge that they bring to the workshop. The Centre encourages volunteers who may want to gain experience working alongside Wik & Kugu artists to get in touch with the management team via the contact page.